Selection of fabric bolts in our Abbotsford showroom.

Our screens are 1.8m tall and up to 1m wide. We hand mix all of our inks (GOTS compliant) and print in repeats down the length of the table.

Our studio and showroom in Abbotsford. You are welcome to visit our space, view our products and watch us print!

Upholstered bedhead and selection of cushions.
Hand-printed designs
on

ethically sourced textiles.
Inspiration
Rather than following trends, we design textiles that will fit in your life for many years to come.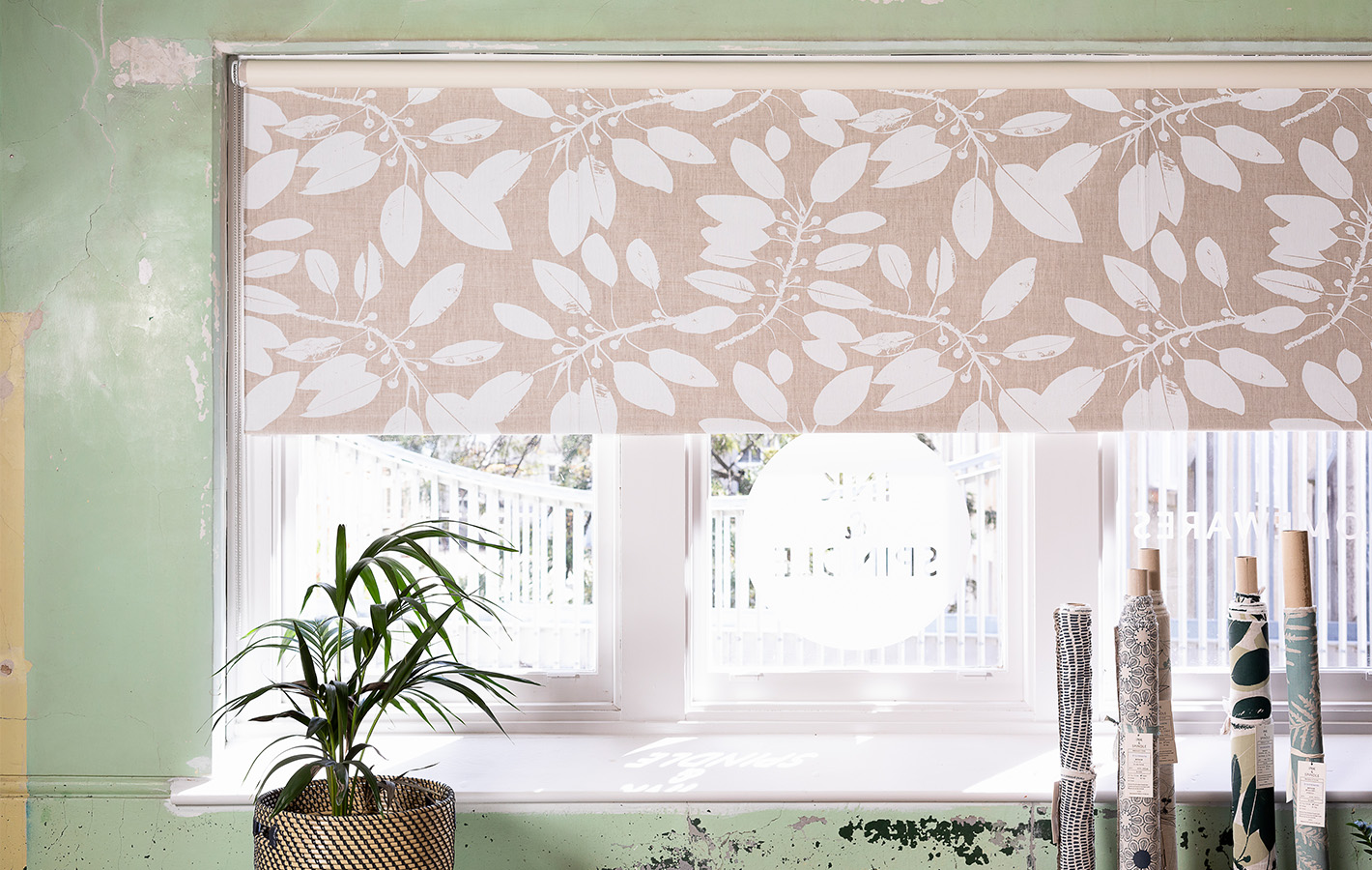 Inspired by the Australian landscape, we are passionate about creating textiles that have minimal impact on the earth. Using organic cotton/hemp and eco-linen basecloths we ensure that our textiles have inherent longevity and are free from harmful chemicals. Rather than following current design or fashion trends too closely we aim to develop textiles that will fit in your life for many years to come.
We are inspired by Australia's native flora & fauna and aim to respect our environment through all that we do.
We also love working within the limitations of screen printing and hand printing, with all of our designs requiring only one or two colour separations. We use overprinting, screen flips and displacements to create beautiful results from only a single screen.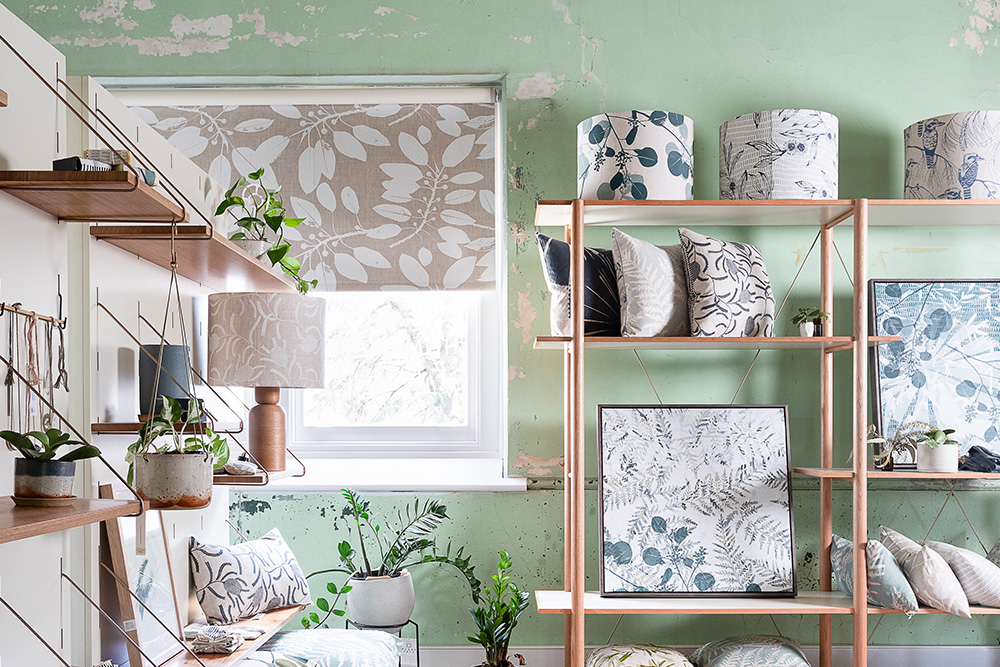 Our textiles are available as meterage, homewares & custom made curtains, blinds and upholstery. The full collection can be viewed at our Abbotsford Convent studio & showroom. Our textiles can also be found around Melbourne and Australia made in to bags, apparel, soft furnishings and much, much more thanks to the skills of some talented independent makers.
Sustainability
It's at the heart of what we do.
Our desire to live, work and create in an ethical and sustainable manner has influenced how Ink & Spindle was established and has developed since 2008. Everything from the materials we carefully select, to our production processes, to our everyday business decisions. More in-depth information can be found on our Environment page.
We believe that it's important to be as transparent as possible about sustainable and eco friendly practices. We're not perfect, and there are still elements of our business that we would like to improve upon, but below is a list of practices we currently employ to minimise our impact on the earth:
We promote and use certified organic & sustainable base cloths.

We design for longevity, not conforming to short term, seasonal trends.

We use water based, organic certified inks. We minimise water wastage by using high pressure to clean screens.

We have a water-board certified separation system to prevent waste ink particles from entering waterways.

We use recycled paper, card, envelopes, and reuse boxes & packaging materials where possible.

We use home-compostable mailing satchels for online orders, instead of plastic.
We proudly reduce our carbon emissions by offsetting with Carbon Neutral. We also partner with Carbon Neutral's Plant-A-Tree program, helping to capture carbon, reduce salinity and restore local native flora & fauna.
1595 Trees & shrubs planted
40 Tonnes of C02 offset
About Us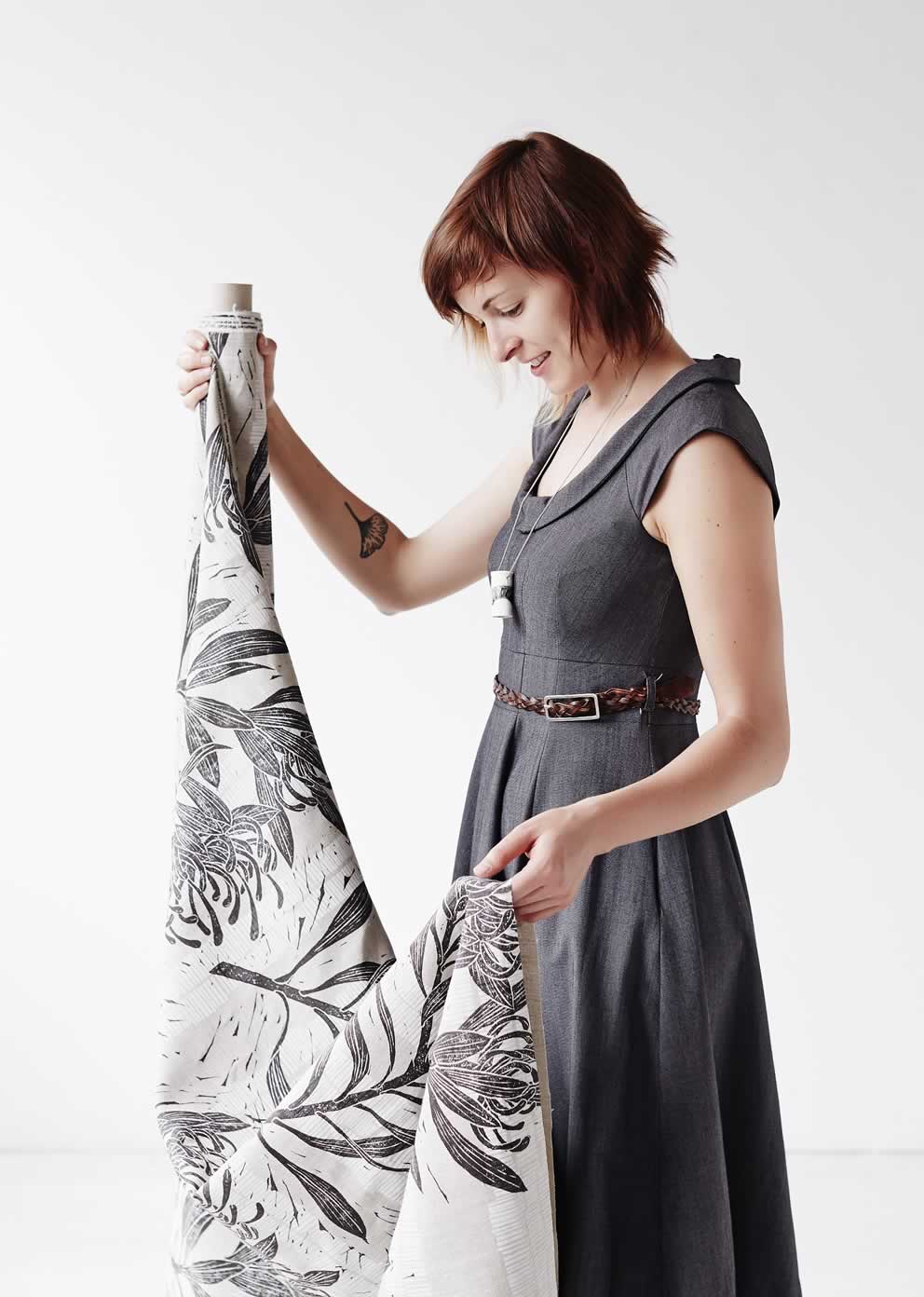 Lara Cameron
Lara's passion for Australian flora and fauna stems from a childhood spent in nature, often playing & exploring the creeks and bushland near home and the surf coast. With a background in graphic design, Lara was drawn back to her roots by a desire to work in a more tactile medium, co-founding Ink & Spindle in 2008. Lara enjoys spending time with her two young children, passing on a love of nature and minimal impact on the earth.
Find Lara on Instagram at @laracameron.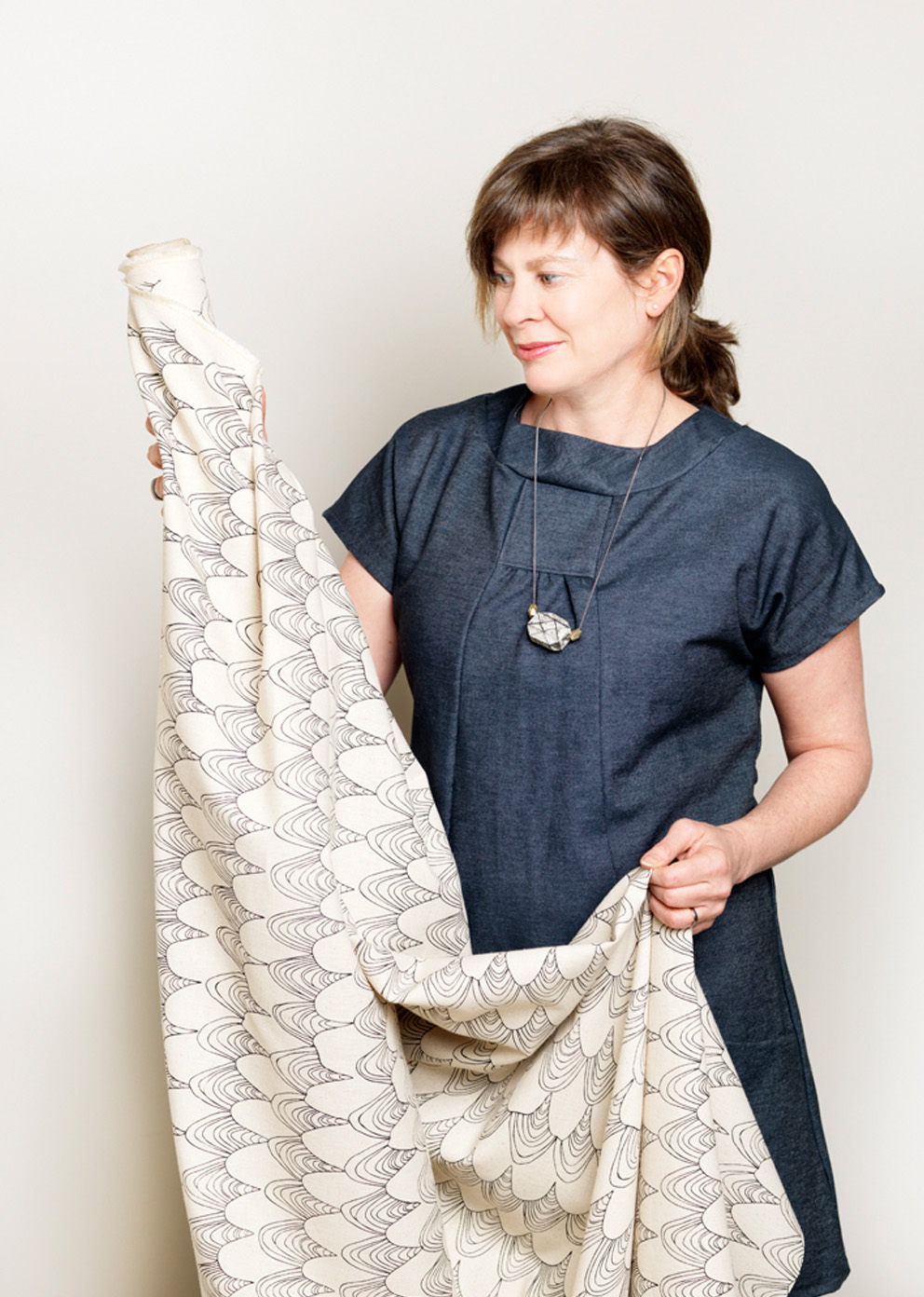 Photo © Elka Meitzel.
Caitlin Klooger
Caitlin is a multidisciplinary designer with a background in Interior Design and Landscape Architecture. Inspired by the Australian landscape she enjoys experimenting with different mediums including block printing, charcoal, line drawing and acrylic & watercolour painting. She enjoys creating things in the studio and spending time with her busy young family.
Find Caitlin on Instagram at @caitlinklooger.
Process
We love the tactile and organic nature of screen printed textiles, with each length of metreage carefully printed by hand - by our hands in fact - on our 13 metre table. Each screen measures 1.8m tall and requires two people to handle at all times. We work our way down the table producing each design through a series of interlocking repeats.
Each colour is hand mixed in the studio using water-based, organic certified inks.
When printing we use only water based, certified organic inks. Our range of basecloths include blends of GOTS certified organic cotton, hemp, yak and OEKO-TEX certifed eco-linen, in medium and upholstery weights.

You are welcome to visit our Abbotsford Convent studio and showroom to watch us print!
Internships
Internship applications for 2020 are now closed. We will open up 2021 placements shortly - keep an eye on our Facebook and Instagram for more info. More information on our internships can be found in the FAQ section of our site.
Stockists
The following businesses stock our products, meterage or just sample hangers to facilitate custom orders.
Online
Victoria
NSW
TAS
SA
QLD
WA
New Zealand
Europe